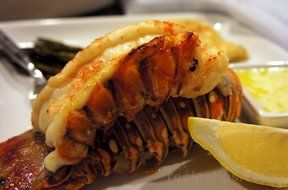 Directions
Preheat oven to 350 degrees F.
Cut the shell down the center of the back with a kitchen shears, leaving tail fan intact. Run your finger between the meat and the shell to loosen from each other. Lift the lobster meat through the slit to rest on the top of the shell
Place lobster tails on a baking sheet, brush each prepared lobster tail with butter, sprinkle with paprika and bake approximately 15 minutes or until a meat thermometer reads 140 degrees F and meat is no longer opaque.
Serve with melted butter and lemon wedges.
Prep Time: 10 minutes
Cook Time: 15 minutes
Servings: 4


Ingredients
-
4 lobster tails
-
1 stick butter
-
1 teaspoon paprika
-
1 lemon, wedged