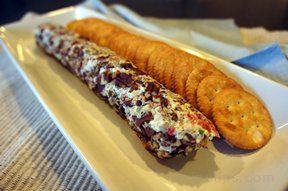 Directions
Mix cream cheese, lemon juice, mustard, Worcestershire, parsley and onion until smooth.

Add the pimientos, clams and saltines; mix well. Cover the mixture and chill for at least an hour in your refrigerator.

Place the chilled mixture on a sheet of wax paper, and roll into a log about 8 inches long, making sure to smooth off the ends. Cover the log with chopped pecans. Refrigerate until ready to serve.

Unwrap the roll and place on a serving platter. Serve with crackers.
Prep Time: 10 minutes
Cook Time: 0 minutes


Ingredients
-
8 ounces cream cheese, softened
-
1 tablespoon lemon juice
-
1 teaspoon mustard
-
1 teaspoon Worcestershire sauce
-
2 tablespoons parsley, chopped
-
2 tablespoons onion, grated
-
1 jar pimientos, drained (4 ounce jar)
-
2 cans clams, minced, drained (7.5 ounce can)
-
1/3 cup saltines, finely crushed
-
1/2 cup pecans, chopped