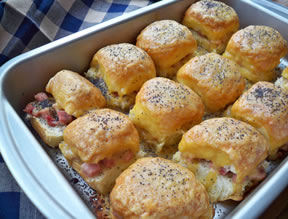 Directions
Slice rolls in half. Place layer of ham and cheese on bottom of each roll.
Place the buns in a 9 x 13 cake pan and put tops of rolls on.
Melt butter, add the worcestershire sauce, onion powder, and mustard. Spoon over top of rolls. Sprinkle each roll with poppy seeds.
Bake at 350 degrees for 10 - 15 minutes or until cheese is melted.
Serve while warm.
Prep Time: 25 minutes
Cook Time: 15 minutes
Servings: 12


Ingredients
-
1 package Hawaiian rolls
-
3/4 pound chopped ham
-
1/2 pound Swiss cheese
-
1 stick butter
-
1 tablespoon worcestershire sauce
-
1 tablespoon onion powder
-
1 tablespoon mustard
-
poppy seeds