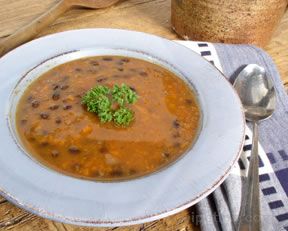 Directions
First rinse and sort the dried beans. Use the quick soak method for preparing the black beans to speed up the prep time, following the directions on the bean container for cooking and saving the water the beans were cooked in.
Peel the carrots and seed the peppers. In the food processor, use the steel blade to chop all the vegetables - carrots, onions, garlic, peppers, and celery.
In a large skillet, heat the oil and sauté the vegetables for about 7 minutes or until the onions are soft. Add to the vegetable mixture the garlic, coriander, cumin, dry mustard and chili powder. Cook an additional minute stirring constantly.
Transfer these ingredients into an 8 qt. soup pot. To the vegetables add the 2 pounds of cooked beans, liquid from the beans, canned vegetable broth, salt, bay leaves, orange juice, coridander seed, ground cumin, dry mustard, and vinegar.
Simmer until soup is thick, about 2 hours.
Remove the bay leaves and add the tomato paste. Add the hot sauce to taste. Serve. Garnish with feta cheese and salsa.
Prep Time: 45 minutes
Cook Time: 2 hours
Container: 8 quart soup pot
Servings: 12
Serving Size: 1 cup


Ingredients
-
2 pounds dried black beans
-
2 onions, large
-
1/2 cup olive oil
-
2 garlic cloves, large
-
2 carrots
-
2 stalks celery
-
1 sweet red pepper
-
1 green pepper
-
4 cups vegetable broth
-
2 cups water from the beans (may need to add more)
-
2 1/2 teaspoons coriander seeds
-
2 teaspoons ground cumin
-
1 tablespoon chili powder
-
1 tablespoon dry mustard
-
2 tablespoons red wine vinegar
-
2 teaspoons salt (to taste)
-
3/4 cup fresh orange juice
-
2 bay leaves
-
6 ounces tomato paste
-
1 teaspoon hot sauce