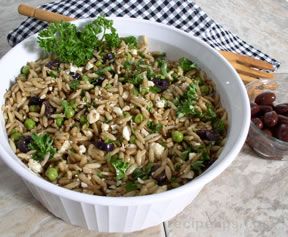 Directions
Combine the first 5 ingredients in a large bowl.
Whisk the remaining 5 ingredients together in a small bowl or shake in a small container or jar; then toss with the pasta mixture until well coated.
Cover the bowl and chill for a least 1 hour to marinate the flavors. Serve chilled or at room temperature.
Prep Time: 15 minutes
Cook Time: 30 minutes
Container: a large bowl for the salad and a small bowl to mix the dressing (or use a small container to shake the dressing ingredients - a clean jar with a lid works well)
Servings: 8
Serving Size: 4 ounces


Ingredients
-
3 cups Rosamarina pasta (orzo) cooked (3 cups cooked = 1 cup uncooked)
-
1 cup frozen green peas, thawed
-
3/4 cup feta cheese, crumbled
-
1/4 cup parsley, chopped
-
1/4 cup kalamata olives, chopped
-
3 tablespoons olive oil (extra virgin)
-
1 tablespoon balsamic vinegar
-
1/2 teaspoon salt
-
1/2 teaspoon black pepper
-
1 clove fresh garlic, minced