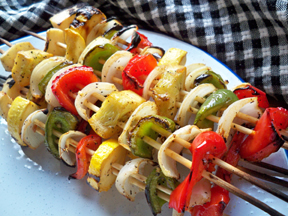 Directions
Soak skewers in water 1 hour.
Whisk together wine and next 6 ingredients until well blended; reserve 1/4 cup.
Combine remaining white wine mixture and vegetables in a large bowl. Cover and chill at least 30 minutes or up to 2 hours.
Remove vegetables from marinade, discarding marinade.
Preheat grill to 350° to 400° (medium-high). Thread vegetables onto skewers, and grill.
Transfer skewers to a platter. Remove vegetables from skewers, if desired. Serve with reserved 1/4 cup white wine mixture.
Nutrition info varies depending on veggies.
Prep Time: 1.5 hours
Cook Time: 30 minutes


Ingredients
-
12 inch-long wooden skewers
-
1/4 cup dry white wine (could substitute apple juice or chicken broth if desired)
-
1/4 cup honey
-
3 cloves garlic, minced
-
2 tablespoons balsamic vinegar
-
2 tablespoons Olive Oil
-
1 1/2 teaspoons pepper
-
1 teaspoon salt
-
16 cups assorted cut vegetables (mushrooms, onions, squash, okra, red pepper, etc)