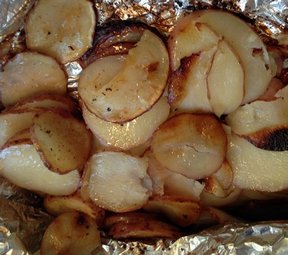 Directions
In a large bowl, combine potatoes, onions, butter, garlic, garlic salt and pepper.

Divide mixture between two double thicknesses of heavy-duty aluminum foil. Fold foil around mixture and seal tightly.

Grill, covered, over medium heat for 40-45 minutes or until potatoes are tender, turning once.

Open foil carefully and allow steam to escape. Serve with sour cream, if desired.
Prep Time: 15 minutes
Cook Time: 45 minutes
Servings: 8


Ingredients
-
8 potatoes, sliced
-
2 onions, halved, sliced
-
4 tablespoons butter, melted
-
2 cloves garlic, minced
-
1/2 teaspoon garlic salt
-
1/2 teaspoon pepper
-
1/2 cup sour cream (optional)