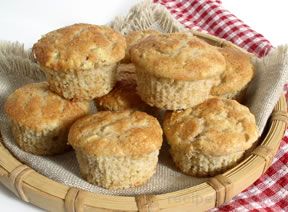 Directions
Preheat oven to 375°F.
Prepare muffin tin with paper liners or just spray each individual tin with a vegetable oil baking spray.
Cream together the egg, margarine, and sugar until light and fluffy.
Mix the dry ingredients together; then add the milk, dry ingredients, and the fruit to the egg and sugar mixture. Stir until just blended together (the batter will be somewhat lumpy).
Fill each muffin cup 1/2 to 3/4 full. Bake for 20 minutes.
Remove the muffins from the pan and let cool on a wire rack before serving.
Container: two mixing bowls, muffin tin
Servings: 12


Ingredients
-
1 egg
-
1/4 cup margarine
-
1 cup sugar (scant cup)
-
1 1/2 cups flour
-
2 teaspoons baking soda
-
1/2 teaspoon salt
-
1/2 cup milk
-
1 apple (grated coarsely, may include skin) or any other fruit of your choice