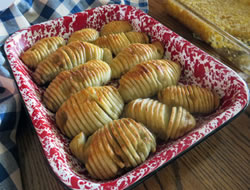 Directions
Preheat oven to 350° F. Grease the bottom and sides of a baking pan.
Make thin slices along each of the potatoes but do not slice all the way through.
Place in the greased baking pan. Baste each well with the melted margarine.
Sprinkle with the onion salt and celery salt.
Place in the preheated oven.
Bake for approximately 1 hour, basting with more of the melted margarine every 15 to 20 minutes. If they are not golden brown once they are tender when poked with a fork, you can put them under the broiler to bring them to a nice golden brown.
Prep Time: 1 hour
Cook Time: 1 hour
Container: Baking pan
Servings: 10


Ingredients
-
10 potatoes, peeled, sliced thinly
-
1 1/2 teaspoons onion salt
-
1 teaspoon celery salt (optional)
-
3/4 cup margarine, melted