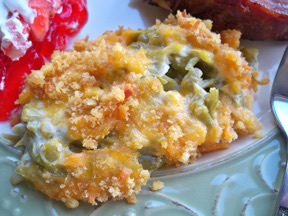 Directions
Preheat oven to 350 degrees F.
Combine 2 tablespoons margarine and flour, cook gently. Remove from heat.
Stir in salt, onions and sour cream; stir in beans.
Place bean mixture in shallow 2 quart casserole dish.
In a small bowl, toss together cracker crumbs and remaining butter. Top beans with cheese and follow with cracker crumbs.
Bake for 30 minutes or until cheese is bubbling.
Prep Time: 20 minutes
Cook Time: 30 minutes
Container: 2 quart casserole dish
Servings: 8


Ingredients
-
3 tablespoons butter
-
2 tablespoons all-purpose flour
-
1 teaspoon Salt
-
1/4 cup onion, diced
-
1 cup sour cream
-
3 cans green beans, drained (15 ounce cans)
-
2 cups shredded cheddar cheese
-
24 Ritz crackers, crumbled