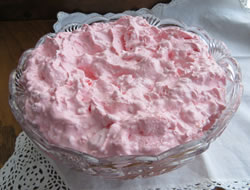 Directions
Drain the pineapple as much as possible; set aside.
Mix the gelatin and cottage cheese. Allow to set for several minutes; blend in drained pineapple.
Fold in the cool whip. Chill before serving.
You can use any flavor of gelatin to make this salad.
Prep Time: 15 minutes
Container: Salad serving bowl


Ingredients
-
1 can crushed pineapple, 15 oz. can
-
1 box strawberry jello, (or any flavored desired) - 3 oz. box
-
1 package cottage cheese (16 oz.)
-
1 package Cool Whip - 8 oz.