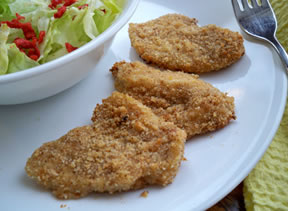 Directions
Pour oil into a medium size bowl. In another bowl, mix together bread crumbs and seasoning.
Slightly coat fish with oil and then coat with bread crumb mix.
Place fish into a 9" X 13" pan. After all fish has been added to the pan, take the remaining bread crumbs and distribute evenly onto the fish.
Bake in a preheated 400 degrees F. oven for 20 minutes.
Prep Time: 15 minutes
Cook Time: 20 minutes


Ingredients
-
1 pound fish fillets
-
1/2 cup oil, canola
-
1/2 cup bread crumbs
-
3 teaspoons lemon pepper seasoning