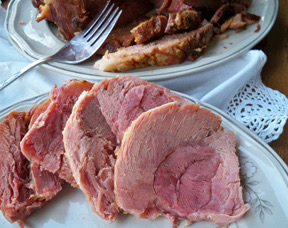 Directions
About 1 hour before cooking, remove the ham from the refrigerator and allow to come to room temperature.
Cut diamond shaped slits in the top of ham. Be careful not to cut into the meat.
Place ham in a 4-5 quart crock pot and pour apple juice over top.
Combine brown sugar, honey, Dijon mustard, and pepper in a small bowl and blend well. Spread over ham, taking time to get the glaze into the slits.
Cover crock pot and cook on low 6-8 hours. (If ham is too big for crock, just cover tightly with aluminum foil.)
Remove from crock and let rest 5-10 minutes. Slice and serve.
Prep Time: 20 minutes
Cook Time: 6 or more hours
Container: 4 - 5 quart crock pot


Ingredients
-
5 pounds fully cooked bone-in ham or ham of your choice
-
1/3 cup apple Juice
-
1/4 cup brown sugar
-
1 tablespoon honey
-
1 tablespoon prepared Yellow Mustard
-
black pepper to taste