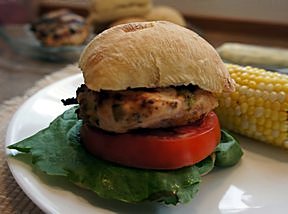 Directions
Combine all ingredients in a bowl until blended. Shape into four patties.

Spray a grill rack with nonstick spray and grill burgers over medium-high heat until a thermometer inserted in the center of each burger registers 165°F, 7-8 minutes on each side.

VARIATION: For a slight variation, you can substitute ricotta cheese for the zucchini.
Prep Time: 10 minutes
Cook Time: 15 minutes


Ingredients
-
1 1/4 pounds ground turkey
-
1/2 cup zucchini, finely chopped
-
2 scallions, finely chopped
-
2 cloves garlic, minced
-
2 teaspoons dijon mustard
-
1 teaspoon Worcestershire sauce
-
1/4 teaspoon salt
-
1/4 teaspoon freshly ground pepper