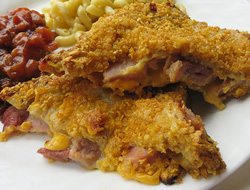 Directions
Make 4 sandwiches with cheese and ham. Cut each in half diagonally.
In shallow dish, beat eggs, milk, and salt until foamy. Dip sandwiches and turn once.
After dipping in egg mixture, coat with cornflake crumbs. Place on greased cookie sheet and drizzle with melted butter.
Bake at 400° F. for 10 minutes or until thoroughly heated through, cheese is melted and sandwiches are crispy!
Prep Time: 15 minutes
Cook Time: 10 minutes
Container: Baking sheet
Servings: 4


Ingredients
-
8 slices bread, little older works better
-
sliced ham
-
4 slices American cheese
-
3 eggs
-
3/4 cup milk
-
1/4 teaspoon salt
-
1 cup corn flake crumbs
-
1/4 cup butter, melted