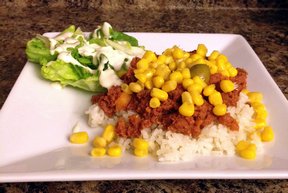 Directions
Place the oil and sofrito in a sauce pan, cook for 3-4 minutes.
Add olives, sazon, water and cubed potatoes. Simmer for about 5 minutes.
After 5 minutes, add the corned beef, Adobo and corn, if desired. Cook on low heat about 20 minutes. The potatoes should be soft by now.
TIP: This is usually served with white rice and salad Add hot sauce at your own discretion.
Ingredients
-
2 tablespoons sofrito
-
olives (optional)
-
1/2 teaspoon olive oil
-
1 packet Sazon seasoning
-
1/3 cup water
-
1 potato, cubed
-
1 can tomato sauce (8 ounce can)
-
1 can corned beef (Boya preferably)
-
Adobo
-
1/3 cup corn (optional)