Quick Tips
Allow ½ pound of raw, whole potatoes per person when preparing mashed potatoes.
Prior to boiling, cut potatoes into even pieces to ensure even cooking.
A few drops of vinegar added to the water when boiling potatoes will help maintain their white color.
Add a tablespoon of butter/margarine to the water or spread a thin coat of oil along the top edge of the pot to prevent the water from boiling over while cooking.
If potatoes are overcooked before mashing, add an egg white. Whip the egg white until stiff, fold into mashed potatoes and bake in a casserole dish until golden brown.
Adding warm milk, rather than cold milk, to mashed potatoes creates a very fluffy texture (warm milk in microwave).
Add a pinch of baking soda with the milk and butter before mashing for fluffier mashed potatoes.
Rather than covering hot mashed potatoes with the top of the pot, cover with a dish towel. This will keep the potatoes warm until serving. The towel will absorb moisture and keep the potatoes dry and fluffy.
If expecting a large crowd for the holidays, prepare the potatoes ahead of time and place in the crock-pot on warm until ready to serve.
Mashed potatoes can be stored in an airtight container, in the freezer, for up to 9 months.
Add Flavor
Add minced garlic cloves and grated lemon peel to melted butter. Cook over low heat for 3-5 minutes. Blend with potatoes and milk.
Add cream rather than milk to mashed potatoes.
Blend a block of cream cheese with mashed potatoes.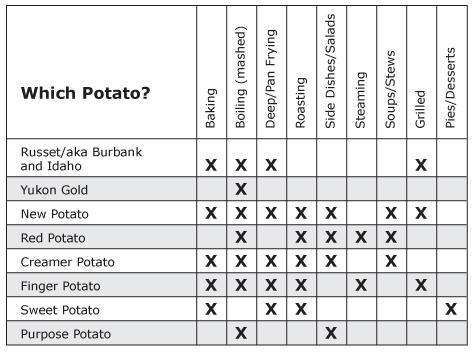 Classic Mashed Potatoes:
If leaving the skins on, scrub them well. Otherwise, peel potatoes.
Small potatoes can be boiled whole, cut large potatoes in half or into quarters to ensure even cooking.
Place potatoes in cold, salted water.
Bring potatoes to a boil. Reduce heat and simmer for 10 to 30 minutes, until tender enough to pierce a fork through the potato. Time will vary depending on type of potato and size of potato pieces.
Drain the potatoes. To reduce the excess moisture remaining in the potatoes, return to low heat for 1 to 2 minutes, shaking the pan to prevent potatoes from browning.
The potatoes are now ready to be mashed with one of the following techniques:
| | | |
| --- | --- | --- |
| Potato Ricer Place warm, just cooked potatoes through a potato ricer. After all potatoes have been through the ricer, use a wooden spoon to blend in milk. | Electric Hand Mixer Beat with mixer while slowly adding milk, in small amounts, to desired consistency. | Potato Masher Using a hand held potato masher makes creating creamy potatoes more difficult. Add milk, in small amounts, to desired consistency. |
Mash potatoes by using a potato ricer, potato masher, or an electric beater on low speed. Blend to desired smoothness.

Stir in softened butter (not melted) and then add hot milk. Only add 1/4 cup of milk at a time to control the amount that is added. Add milk until the potatoes are the desired consistency.
For more information on preparing and cooking potatoes, see All About Potatoes.