It is important that the type of filling you use is stable enough or you will have filling oozing out the sides and your top layer will have a tendency to move around. See the information below on Types of Filling to help you select the right cake filling type for your cake.
Types of Filling
There are many cake filling types that can be used. There are some points that should be taken into consideration when choosing a filling for a cake. Some of these points are listed below.
Consider the flavor of the cake and be sure the filling will compliment the cake's flavor.
Take into account the storage of the cake. Do not select a filling that requires refrigeration when it will not be possible to refrigerate the cake because of its size.
If the cake will be exposed to warm temperatures, such as at a summer picnic, do not choose a filling that will melt or be a safety threat under those conditions, unless it can be stored in a cooler or refrigerator.
If the cake has to be made a day or so ahead of when it will be eaten, be sure the filling will hold up for that period of time.
For information on storing different cake filling types, see Cake Storage Requirement - Filling Storage.
The amount of filling you need will vary depending on the type of filling, the type of cake, number of layers, and personal preference. Generally 1/2 cup of filling per layer should be sufficient. This may be too much if the filling is very rich or you may prefer a little more than 1/2 cup of some fillings but be careful not to add too much, causing the cake to become unstable.
Custard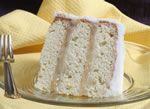 Custard filling is a smooth, creamy type filling similar to pudding. The custard is a cooked filling containing cornstarch, flour, and egg yolks. Any filling that contains cornstarch or flour must be brought to a boil slowly, to prevent scorching and then boiled for at least a minute to thicken to its fullest. If it is not boiled long enough, it may thin out when it cools. It can be flavored with many different ingredients but the most common are vanilla, lemon, and chocolate. The surface of the custard should be covered with plastic wrap or wax paper to prevent a film from forming while it is cooling. The custard filling can be stored in the refrigerator for up to 3 days but is best when used the day it is made. A custard type filling should not be frozen.
Fruit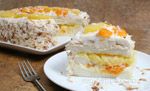 There are many fruits that can be cooked into a filling for cakes that will provide the cake with an extra special flavor. Some of the common fruits used are strawberries, blueberries, raspberries, peaches, apricots, and rhubarb. When using fruit fillings, a piping of frosting is applied on top of the layer around the outer edge of the cake to act as a dam to hold the filling in between the layers. Fresh fruit can also be added between the layers but this type of cake should only be assembled within a few hours of eating it. The fruit continues to ripen even when refrigerated and its juices will begin to soak into the cake. If the cake has a cooked fruit filling that does not contain eggs, it can be stored at room temperature for up to 2 days. Refrigerate for longer storage.
Frosting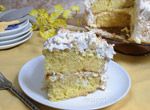 Many times the same frosting used to frost the cakes is used for the filling between layers. This is a great way to add flavor and moistness to the cake. Some of the common frosting types that are also used as fillings are buttercream, boiled, cream cheese, whipped cream, and ganache. Cakes with frosting fillings should be stored according to the type of frosting being used.
Jelly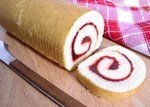 Jelly, jam, or preserves can be used to add an easy fruit flavored filling to a cake. You can add flavor to the cake without any additional preparation. When using jelly filling on a layer cake, use a piping of frosting around the edge of the layer to keep the jelly, jam, or preserves confined and then select your favorite flavor and spread it on the layer inside the piped frosting. Cakes with this type of filling can be stored at room temperature for up to 4 days as long as the frosting can be stored at room temperature. The filling can be refrigerated if the frosting on the cake calls for it.
Whipped Cream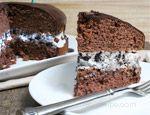 A filling using whipped cream provides a light fluffy filling with a delicate flavor. Whipped creams are sometimes stabilized by adding gelatin to make them hold up better. A cake with whipped cream filling should be refrigerated and served the same day that it is made.
Glazes and Syrups
Glazes and syrups can also be used as fillings but will not provide for a filling with any thickness. They do provide extra flavor and help seal in the moisture of the cake. The cake can be stored at room temperature when the filling is a glaze or syrup unless the cake or frosting requires refrigeration.