Guidelines for Proper Doneness
The proper doneness of foods cooked with rotisserie grilling is determined by a number of criteria depending on the type of food that will be cooked and the size and density of the food.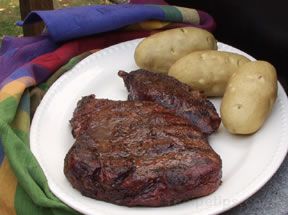 A visual inspection is often adequate to determine the proper doneness of certain meat cuts. Cuts of beef or lamb, for example, will have a crispy exterior with a dark brown color. The meat may begin to split apart. The interior portion may be quite pink or it may be gray or brown, depending on the desired doneness. For detailed information see Beef Doneness and Lamb Doneness.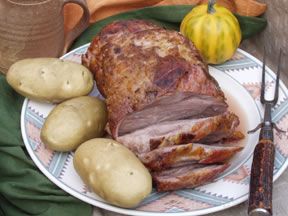 Pork cuts should be cooked until the interior meat is opaque with only a hint of pink. Pork that is still quite pink or red in the center should not be served until it has cooked for a longer period. (An internal temperature of 145ºF is recommended.) For detailed information see Pork Doneness.




Poultry will have a crispy brown skin when rotisserie grilled and the meat will appear opaque throughout. The juices will run clear if the meat has been cooked sufficiently. (An internal temperature of 180ºF is recommended.) For detailed information see Chicken Doneness and Turkey Doneness.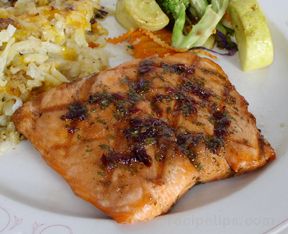 Fish is safe to eat when the meat flakes easily with a fork and appears opaque throughout. The exterior may take on a golden brown appearance when rotisserie grilled in a rotisserie basket (depending on the type of fish and the particular recipe). For detailed information, see Fish Doneness.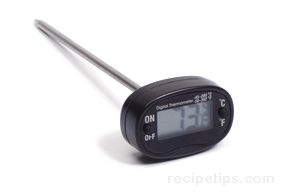 The most reliable method for determining proper doneness is with an accurate meat thermometer. It is especially important to use a meat thermometer when rotisserie grilling pork or poultry.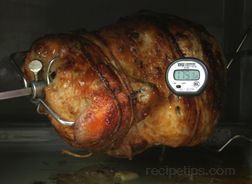 To check the temperature of meat, the thermometer must be pushed through the thickest part of the meat, away from any bones (bones conduct heat).


A cooking time chart can be used as a guide for determining proper doneness of foods; however, the chart does not allow for the many variables that often influence doneness, such as the type of heat source used for rotisserie grilling, the actual cooking temperature, the temperature of the food prior to cooking, etc. Remember, a cooking time chart should be used as a guide only and should not be used as a substitute for the accuracy of a good meat thermometer.
Type of Food

Safe Internal
Temperature

Cooking Time


(Approximate)
Chicken
(whole - 4 pounds)
180º F
70 - 75 minutes total
Chicken
(breast)
180º F
35 - 40 minutes total
Chicken
(thigh)
180º F
60 minutes total
Game Hen
(2 pounds)
180º F
35 - 40 minutes total
Turkey
(whole)
180º F
25 - 35 minutes
per pound
Pork
(roast or chops)
145º F
20 minutes per pound
Pork
(spare ribs)
145º F
30 minutes per pound
Beef
(roasts or steaks)
150º F - 165º F
(medium)
15 minutes per pound
Lamb
(roasts or chops)
155º F - 160º F
(medium)
20 minutes per pound
Veal
(roast)
150º F - 160º F
(medium)
15 minutes per pound
Fish
(whole)
155º F
(or until opaque and flaky)
20 minutes total