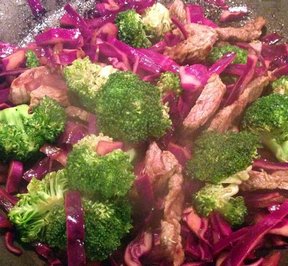 Directions
Coat a nonstick skillet with cooking spray. Over medium-high heat, sauté the steak until cooked through. Remove and set aside.

Add broccoli florets, red onion and red cabbage to the pan. Stir in sesame oil, soy sauce and fresh lime juice. Cook until cabbage is wilted and broccoli is cooked.

Stir in beef and enjoy.
Prep Time: 10 minutes
Cook Time: 15 minutes
Servings: 1


Ingredients
-
5 ounces lean steak
-
1 cup broccoli florets
-
1/4 cup red onion, diced
-
1 cup red cabbage, thinly sliced
-
2 teaspoons sesame oil
-
1 tablespoon reduced sodium soy sauce
-
1 tablespoon fresh lime juice