Only 1 or 2 tablespoons of oil per pound of ingredients is required as a cooking medium. Oil with a high smoke point should be used so that it will not burn. It is important to add different ingredients to the pan at the appropriate times to ensure that all the ingredients are cooked thoroughly, but not overcooked. Some ingredients require a longer cooking time than others so those ingredients need to be added to the pan first. If everything is placed in the pan at the same time, the results will be unsatisfactory.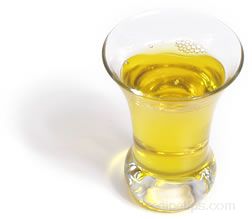 The high smoke point of safflower oil makes it
a good choice for stir-frying. Other good choices
are peanut oil, corn oil, soybean oil, and olive oil.