Butter
Brown Butter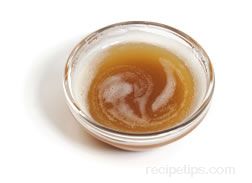 Brown butter is often used as a flavoring condiment for enhancing the taste of other foods. It is easily created by melting butter slowly so that the milk solids begin to brown, but not burn. As the butter is heated, it is transformed into a golden brown liquid with a nutty and complex flavor. If heated too long, it becomes dark and burned and takes on a very unpleasant odor and flavor.
Common Uses: flavoring condiment



Clarified Butter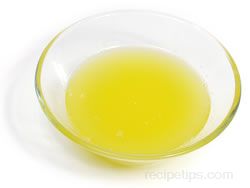 Clarified butter is produced by melting regular butter over low heat and skimming off the milk solids that rise to the top. The golden yellow clarified layer is then strained off, leaving only sediments in the bottom of the pan. Clarified butter has a rich buttery flavor and is excellent for cooking because it has a higher smoke point than regular butter. It is used in many baked dishes and for creating a variety of sauces. Clarified butter is also known as drawn butter and is often used as a dipping sauce for various types of seafood, such as shrimp and lobster.
Common Uses: ingredient in baked dishes and sauces, condiment



Ghee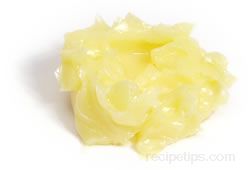 Originating in India, ghee is a form of clarified butter that is made from a strongly flavored cream. After the butter from the cream is clarified, it is allowed to remain on the heat for a longer period, which results in a darker, caramelized, strongly flavored butter. It has a very high smoke point, making it useful for high heat cooking methods. Ghee, which is usually sold in cans, does not have to be refrigerated because it contains no milk solids that can spoil.
Common Uses: cooking, ingredient in baked dishes and sauces, condiment



Lactic Butter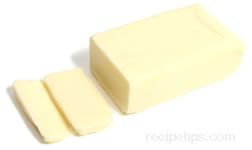 One of the two basic types of butter is lactic butter (the other main type is sweet butter). It is produced from cream that is pasteurized, cooled, and inoculated with a lactic acid producing bacteria (starter culture). The culture ripens the butter and at the appropriate time, the butter is pasteurized again to stop the ripening process. Lactic butter is favored in many European countries where the rich flavor of the butter is preferred. Lactic butter has a higher smoke point than sweet cream butter, which makes it excellent for sautéing. It also has a lower moisture content, which is preferred by European bakers since excess moisture in butter can affect baking results. Lactic butter is also referred to as ripened butter.
Common Uses: cooking, baking, condiment, ingredient for sauces, flavoring ingredient



Sweet Butter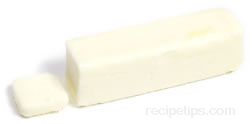 Sweet butter, which is simply referred to as "butter", is produced from cream that has been churned until it becomes semisolid. It is one of the two main types of butter (the other is lactic butter). Any type of milk can be used, but cow's milk is the most popular. In the United States, any product labeled sweet butter must contain at least 80% milk fat. Water and milk solids are the remaining components.
Sweet butter may be sold salted or unsalted. Many people mistakenly believe that "unsalted butter" is the only type of sweet cream butter (because of the absence of salt) and "salted" butter refers to a product that is entirely different, when actually both products are identical except for the salt. Any butter produced with sweet rather than sour cream is known as sweet cream butter. Both unsalted and salted butter are popular for everyday use, but unsalted butter is preferred for the preparation of sweet dishes.
Butter is one of the most popular cooking fats, providing rich flavor to foods, but it has a low smoke point, so care must be taken not to burn it when using it for high heat sautéing and frying. When sautéing with butter, many cooks add an oil with a higher smoke point to prevent the butter from burning.
Butter is used as a topping for breads and rolls, is melted onto cooked vegetables, and is added to many types of sauces to provide a rich, smooth flavor. It is also used as an ingredient in hundreds of baked goods such as breads, rolls, cakes, and pastries.
Butter is inspected and graded by the United States Department of Agriculture (USDA). The flavor, color, texture, body, and salt are among the criteria used by the USDA for grading. The grade consists of a letter grade and sometimes a numerical score such as AA or a score of 93, which is the best. Other grades include A, or a 92 score, B, or a score of 90, and C, representing a score of 89. Usually only Grade AA and Grade A are found in food stores.
Butter is perishable so it should be stored in the refrigerator. It should be tightly wrapped because it will absorb odors and flavors quite easily. Unsalted butter may be kept in the refrigerator for 2 or 3 weeks and salted butter may be kept somewhat longer (4 or 5 weeks) because the salt acts as a preservative. Butter freezes extremely well and may be kept in the freezer for long-term storage for at least a half year.
Common Uses: cooking, baking, condiment, ingredient for sauces, flavoring ingredient



Whey Butter
In order to produce whey butter, the whey is drained from the cheese curds during the cheese making process. Any cream remaining in the whey is separated and churned into butter. Whey butter is strong and salty with a cheese flavor and it has limited appeal. It can be found in some specialty shops and farmers markets.
Common Uses: condiment, flavoring ingredient
Note:

A product labeled "whipped butter" is regular butter that has had air beaten into it in order to increase the volume and to make it easier to spread. It should not be used in baked goods because the large volume of air contained in the product will result in the incorrect proportion of butter in comparison to the other ingredients.