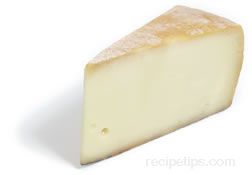 Appenzeller Cheese: a Brine-cured Cheese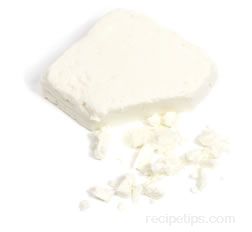 Feta Cheese: a Brine-cured Cheese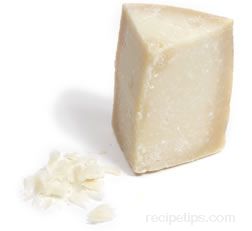 Parmigiano-Reggiano: a Brine-cured Cheese
A reference to numerous types of cheese that are washed with, or submerged into, a brine bath as part of the cheese making process. The cheese must remain in the brine for several hours to several months depending on the type of cheese being produced. The salty brining solution helps to limit the growth of unwanted bacteria that can produce a foul taste in the cheese (although in other stages of the cheese making process, some types of good bacteria are necessary for producing the cheese). The brining solution provides cheese with a slightly salty, savory flavor that is quite desirable in many types of cheese. Described below are three cheeses that are brine-cured.
One type of cow's milk cheese, Appenzeller of Switzerland, is brined with an herbal brining solution (which often includes wine) that is washed over the wheels of cheese during the curing process. The brining solution helps to provide the distinctive flavor of Appenzeller. The taste can vary from subtle to strong depending on the length of time the cheese is aged.
Feta cheese, the popular sheep's milk cheese of Greece, is cured for several months in a brining solution that contains whey. Once the cheese has cured for the appropriate time, it is removed from the brining solution and dries out quickly. It is then salted and allowed to age for several more weeks before it is ready to use.
Another famous cheese, Parmigiano-Reggiano, or Parmesan, as it is generically called in the United States and other countries, is soaked for about three weeks in a brining solution containing Mediterranean Sea salt. When the cheese is removed from the brine, it is allowed to age for an average of two years, which gives the renowned Italian hard cheese its somewhat gritty texture and distinctive nutty flavor.