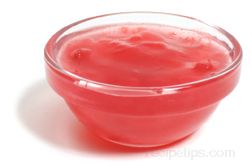 Montmorency Cherry and Pineapple Glaze
A meat topping that is spread over a Ham prior to baking in order to enhance the flavor of the meat after it has finished baking and to help keep the Ham moist and tender in texture. Typically, a Ham Glaze will be thick and somewhat gummy in texture, but always pourable or spreadable. Some of the combinations of ingredients used in preparing Ham Glazes may include any of the following:
Tart of sweet Cherries, chunks of pineapple, corn syrup, spices, and mustard
Figs, cranberries and mustard
Brown sugar, corn syrup, prepared mustard, ginger, and cloves
Brown sugar, white vermouth or brandy, crushed pineapple, cloves, allspice, cinnamon, nutmeg, dry mustard, and orange juice
Brown sugar, dry sherry, honey, and Dijon mustard
Brown sugar, lemon-lime soda, pineapple, and cherries
Brown sugar, ground mustard, ground ginger, black pepper, allspice, and marjoram
Brown sugar, dry mustard, flour, Worcestershire sauce, cider vinegar, ground cloves, and cinnamon
Brown sugar, honey, dry mustard, and pineapple juice
Brown sugar, cider vinegar, golden raisins, sliced peaches, cornstarch, orange juice, crushed pineapple, orange peel, garlic, red pepper flakes, and ginger
Sugar, cinnamon, nutmeg, cloves, paprika, ginger, and allspice
Maple syrup and prepared mustard
Prepared mustard and an apricot or pineapple preserve
Cranberry sauce, brown sugar, orange juice, ground cloves, cinnamon, and allspice
Cranberry jelly, horseradish and dry mustard
Orange juice, soy sauce, flavored horseradish (e.g.,pineapple apricot), nutmeg, and cloves
Grape juice, chardonnay wine, orange juice, raisins, lemon and orange zest, almonds, apricots, cornstarch, Dijon mustard, hot sauce, mace, and nutmeg
Honey, lemon pepper and rosemary
Crushed pineapple, lemon juice, whole grain mustard, and rosemary
Crushed pineapple and sweet chili sauce
Marmalade of choice mixed with whiskey or port wine
Guava jelly, pineapple juice, catsup, white wine, cloves, brown sugar, mustard

As can be seen by the number and variety of different ingredients, there are many variations for providing flavorful Ham Glazes. Sweet, herbal, savory, and at times sour ingredients are all blended together to create unique flavors, aromas and tasty results.