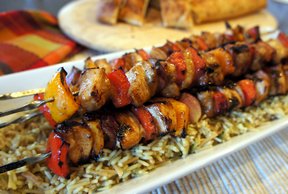 Directions
In a large bowl whisk together oil, honey, soy sauce, garlic and pepper. Reserve 1/4 cup of marinade to brush on kabobs while cooking. Place chicken, onions and peppers in the bowl and marinate in the refrigerator for at least 2 hours, the longer the better.

Preheat the grill to medium-high heat.

Drain marinade from the chicken and vegetables and discard. Thread chicken and vegetables onto skewers.

Lightly oil the grill grate. Place the skewers on the grill. Cook for 8-12 minutes until chicken juices run clear, turning and brushing with reserved marinade frequently.
Prep Time: 20 minutes
Cook Time: 15 minutes


Ingredients
-
1/4 cup vegetable oil
-
1/3 cup honey
-
1/3 cup soy sauce
-
2 cloves garlic, minced
-
1/4 teaspoon ground black pepper
-
4 chicken breasts, boneless, skinless, cut into 1-inch cubes
-
1 onions, cut into 1-inch pieces
-
2 red bell peppers, cut into 1-inch pieces