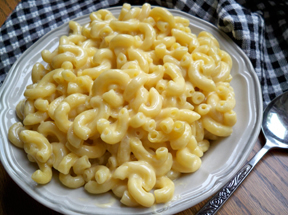 Directions
Cook macaroni with the salt until macaroni is tender but still has a little bit to it; drain.
Add cheese, milk, and butter to the saucepan used to cook the macaroni. Heat until cheese is melted and sauce is hot, do not boil.
Add the macaroni to the sauce and cook until the macaroni is thoroughly heated.
Serve immediately.
Prep Time: 10 minutes
Cook Time: 20 minutes


Ingredients
-
2 cups macaroni
-
1 teaspoon salt
-
2 tablespoons butter
-
to 6 ounces Velveeta Cheese, depending on desired taste
-
1 cup milk