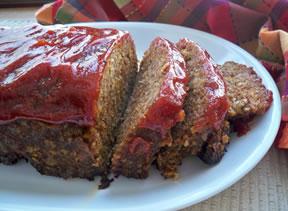 Directions
Combine all ingredients in a large bowl, mix well.
Shape the meat mixture into loaf and place in slow cooker. Cover and cook on low 8-10 hours; or place in a loaf pan and in a 350 degree oven for 1 to 1 1/2 hours.
GLAZE:
Mix all the ingredients together in a small bowl.
Spread over meatloaf. Replace the cover on the slow cooker and cook on high for 15 minutes. If baking the meatloaf in the oven, add the glaze for the last 1/2 hour of cooking time.
TIP: on the lighter side, you could substitute ground turkey in place of the ground beef and use low-fat or fat-free cheddar cheese.
Prep Time: 30 minutes
Cook Time: 75 minutes


Ingredients
-
2 pounds ground beef
-
1 cup shredded cheddar cheese
-
2 eggs beaten
-
2 cups crushed corn or tortilla chips
-
2/3 cup salsa
-
1 package taco seasoning
-
GLAZE:
-
1/2 cup ketchup
-
2 tablespoons brown sugar
-
1 teaspoon dry mustard