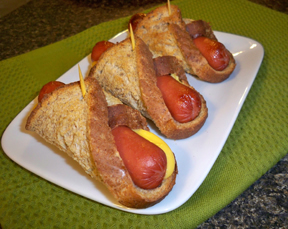 Directions
Place cheese slice and hot dog corner-wise on piece of buttered bread. Fold corners of bread over hot dog. Hold together with toothpick.
Bake in 350 degree oven until golden brown, approximately 15 minutes. Makes 1 serving.
Note: Repeat these directions for as many hot dogs you would like to make.
Ingredients
-
1 hot dog
-
1 slice bread, buttered
-
1 slice cheese