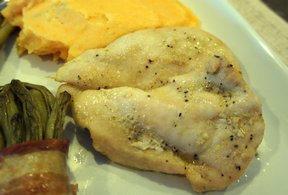 Directions
Combine butter, garlic, Worcestershire sauce and the juce from lemons in small saucepan. Heat over low until butter is melted.

Arrange chicken in an oven proof baking dish. Pour butter sauce over chicken. Bake, covered at 350° for 20 minutes.

Uncover and continue baking until done, about 10 minutes longer.
Prep Time: 10 minutes
Cook Time: 30 minutes


Ingredients
-
1 cup butter
-
10 cloves garlic, minced
-
2 teaspoons Worcestershire sauce
-
2 lemons
-
8 chicken breasts, boneless, skinless
-
salt and pepper, to taste