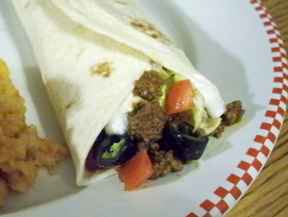 Directions
Once the hamburger has been browned and the grease drained off, add the water and seasoning; simmer as directed on the package of taco seasoning mix.
Place some of the meat on the tortilla shell. Top with cheese, lettuce and any other toppings you like.
Roll up the tortilla shell and eat.
Prep Time: 15 minutes
Cook Time: 15 minutes


Ingredients
-
1 pound hamburger, browned and drained
-
1 package taco seasoning
-
3/4 cup water
-
tortilla shells
-
shredded cheese
-
lettuce
-
taco sauce
-
diced tomato
-
onions
-
sour cream