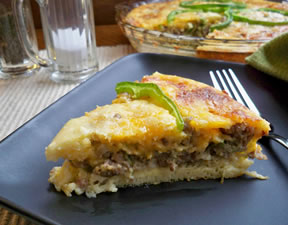 Directions
Preheat oven: 350 dregees F.
Lightly grease a 10 X 1-1/2" pie plate.
Cook sausage, onion, and bell pepper until sausage is browned. Drain. Stir in salt and pepper.
Spread the sausage mixture into the greased pie plate and sprinkle with cheese.
In blender, food processor, or with a mixer, beat the remaining ingredients about 15 second, or until smooth. Pour over cheese and sausage.
Bake in preheated oven for 30 minutes, or until a knife inserted in the center comes out clean. Note: The last 5 or 10 minutes of baking you may garnish with pepper rings.
Allow to stand 5 minutes before cutting.
Prep Time: 25 minutes
Cook Time: 30 minutes
Container: 10-in pie plate
Servings: 8


Ingredients
-
1 pound pork sausage
-
1/2 cup onion, chopped
-
1 cup Green Bell Pepper, chopped
-
1/2 teaspoon Salt
-
1/4 teaspoon black pepper
-
1 cup Cheddar Cheese, shredded
-
1 1/2 cups milk
-
3/4 cup biscuit mix
-
3 Eggs