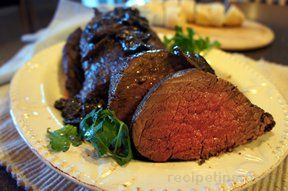 Directions
Ask the butcher to trim the tenderloin or do it yourself using a sharp, thin knife to cut away the top layer of fat and the thin membrane called silver skin.
Combine the black pepper, salt, lemon pepper, garlic, and thyme; pat mixture evenly over the beef. Cover and let stand at room temperature for 30 minutes.
Place a lightly greased rack in a roasting pan. Place beef on the rack. Broil 6 inches from heat for 15 minutes.
Reduce oven temperature to 375° and bake 30-35 minutes or until a meat thermometer inserted into thickest portion registers 140° or to desired degree of doneness. Remove from oven; let stand 10 minutes before slicing.
For Portobello Marsala Sauce, melt 1 tablespoon butter in a medium skillet over high heat; add mushrooms, and saute 10 minutes or until mushrooms are browned and liquid is evaporated. Add 1 tablespoon butter, garlic, and shallots to skillet; saute 5 minutes. Stir in Marsala and chicken broth, loosening browned bits from bottom of skillet. Bring to a boil, and cook 20 minutes or until reduced by two-thirds. Remove from heat, and stir in remaining butter. Serve over beef.
Servings: 8


Ingredients
-
1 beef tenderloin, trimmed (4 lbs)
-
2 teaspoons freshly ground black pepper
-
1 teaspoon kosher salt
-
1 teaspoon lemon pepper
-
1/4 teaspoon granulated garlic
-
1/4 teaspoon dried thyme
-
SAUCE:
-
3 tablespoons butter, divided
-
1 package baby portobello mushrooms, sliced
-
3 cloves garlic, minced
-
2 shallots, diced
-
2 cups Marsala wine
-
1 cup chicken broth