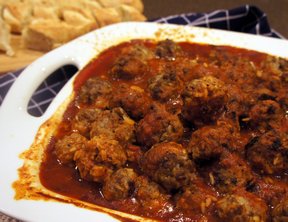 Directions
Combine all meatball ingredients. Shape into balls. Roll in flour. Brown well. Put in casserole dish.

For the sauce, add tomato juice, onion salt and chili powder to the pan you browned the meatballs in. Be sure to scrape up all the browned bits from the bototom. Simmer for 15 minutes.

Pour sauce over meatball. Bake at 350° for 1 hour.
Prep Time: 45 minutes
Cook Time: 1.5 hours
Servings: 6


Ingredients
-
1 pound ground beef
-
3 tablespoons onion, chopped
-
1 egg
-
1/2 cup raw rice
-
1 cup soft bread crumbs
-
1 teaspoon salt
-
1 teaspoon pepper
-
1/4 teaspoon nutmeg
-
1/2 teaspoon mustard
-
1/2 teaspoon celery salt
-
1/2 cup milk
-
SAUCE:
-
1 can tomato juice
-
1 teaspoon onion salt
-
1 dash chili powder