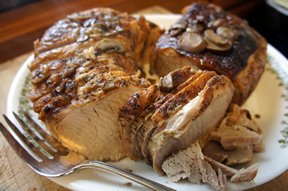 Directions
Mix all marinade ingredients. Place in large ziplock bag with pork loin. Marinade for 24 hours, turning occasionally.
Drain. Roast covered at 350 degrees for 2 1/2 hours until internal temperature is 170 degrees.
Slice and serve, using marinade as sauce (see note below).
Note: If you are going to serve with the marinade as a sauce, you should not use the marinade that the raw meat was marinating in without first boiling it. Reserve some marinade initially, make fresh marinade, or boil the marinade used for marinating the loin to make it safe to consume.
Prep Time: 10 minutes
Cook Time: 2.25 hours


Ingredients
-
5 pounds pork loin
-
1/2 cup white wine
-
1/4 cup vegetable oil
-
6 tablespoons dijon mustard
-
1/4 cup mushrooms, sliced
-
2 tablespoons soy sauce
-
2 tablespoons lemon juice
-
2 tablespoons onion, minced
-
2 tablespoons butter or margarine, melted
-
1/2 teaspoon celery seed
-
1/2 teaspoon salt
-
1/2 teaspoon black pepper