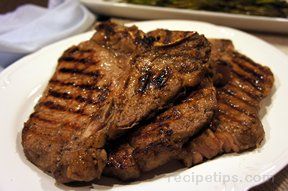 Directions
Mix all ingredients together except steak.

Pour marinade in shallow glass dish. Lay steaks in marinade. Poke well with fork. Turn steaks over and repeat. Turn over again. Let marinate at least 6 hours, preferably 12-24 hours. Turn steak and poke with fork every couple hours.

Grill to desired doneness.
Prep Time: 5 minutes
Cook Time: 15 minutes


Ingredients
-
1/4 cup red cooking wine
-
1/4 cup red wine vinegar
-
1 tablespoon liquid smoke
-
2 teaspoons sugar
-
1 teaspoon garlic powder
-
1/2 teaspoon pepper
-
1 teaspoon onion powder
-
2 teaspoons steak seasoning
-
2 pounds beef steak