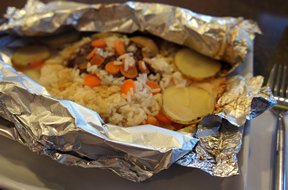 Directions
Make 3 patties with the ground beef, season with salt and pepper. Place the beef on a 12-inch square piece of aluminum foil and put a slice of onion on top of the meat.

Next, add sliced potato, carrots and rice, to your preference. Season all to taste and top each with a tablespoon of butter.

Fold the foil up around the ingredients, to seal in the juices. Place all the little dinners on a cookie sheet and bake at 350 until done, approximately 30 minutes.

VARIATION: A pork chop can also be used in these dinners.
Prep Time: 20 minutes
Cook Time: 30 minutes
Servings: 3


Ingredients
-
1 pound ground beef
-
3 potatoes, sliced
-
2 carrots, sliced
-
1/2 onions, sliced
-
1 cup cooked rice (optional)
-
salt & pepper, to taste
-
3 tablespoons butter