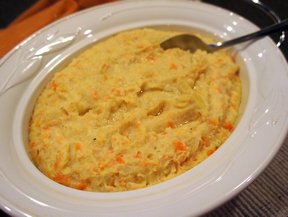 Directions
In a small skillet, saute onion in butter for 8-10 minutes or until golden brown.

Meanwhile, place potatoes and carrots in a large saucepan and cover with water. Bring to a boil. Reduce heat; cover and cook for 10-15 minutes or until tender; drain.

In a mixing bowl, mash potatoes and carrots. Beat in onion, sour cream and salt. Sprinkle with chives, if desired.
Prep Time: 15 minutes
Cook Time: 20 minutes
Servings: 4


Ingredients
-
1/4 cup onion, diced
-
2 teaspoons butter
-
2 cups potatoes, peeled, cubed
-
1 cup carrots, sliced
-
1/4 cup sour cream
-
1 teaspoon salt
-
chives (optional)