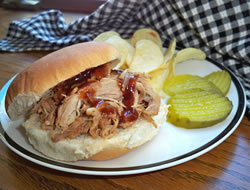 Directions
Heat the oil in 10" skillet over med-high heat. Brown the pork on all sides.
Add the soup, ketchup, vinegar, and brown sugar to a 6 quart slow cooker and stir until mixed.
Add the pork and turn to coat.
Cover and cook on low for 6 to 8 hours, the pork should be fork tender.
Remove the pork to a cutting board and let stand for 10 minutes. Using 2 forks, shred the pork. Remove any excess fat as you are shredding it.
Pour sauce from the slow cooker and save.
Return pork to the slow cooker. Pour some of the sauce back over the shredded pork. Add just enough to moisten pork well. Heat in slow cooker until meat is hot. If desired, stir in a little of your favorite barbecue sauce but just enough to add a little barbecue flavor.
Serve the shredded pork on hamburger buns.
Note: The pulled pork can be prepared ahead of time and reheated when ready to serve.
Prep Time: 20 minutes
Cook Time: 8 hours
Container: 6 quart slow cooker


Ingredients
-
1 tablespoon vegetable oil
-
1 boneless pork shoulder or boston butt roast (5 to 6 lbs.)
-
1 package Lipton Onion Soup Mix
-
1 can chicken broth
-
1 cup ketchup
-
1/4 cup cider vinegar
-
4 tablespoons brown sugar (packed)
-
Hamburger buns