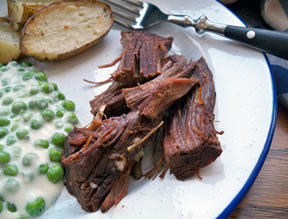 Directions
Preheat oven to 300 degrees F.
Place unseasoned roast in baking pan or slow cooker crock.
Sprinkle onion soup mix on top. Pour on the Coca-Cola. Cover tightly with aluminum foil or place cover on slow cooker.
Bake for 3 to 4 hours in the oven or 6 to 8 hours in the slow cooker, or until tender.
Prep Time: 15 minutes
Cook Time: 6 or more hours


Ingredients
-
3 pounds beef roast (sirloin tip, round or boneless chuck)
-
1 can Coca-Cola
-
1 package Onion Soup Mix