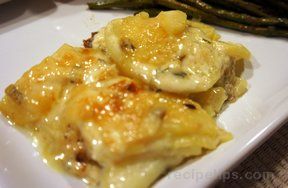 Directions
Preheat oven to 400 degrees F. Butter 9x13 inch glass baking dish.
Fill large bowl with cold water. Peel and slice each potato into 1/8-inch-thick rounds and place in bowl with water. Repeat with sweet potatoes.
Combine cream, butter, and garlic in medium saucepan; bring to simmer. Remove from heat.
Mix all herbs in small bowl.
Mix sea salt and black pepper in another small bowl.
Drain potatoes and pat dry with kitchen towels. Transfer half of potatoes to prepared baking dish, spreading out evenly. Sprinkle with half of salt-pepper mixture, then half of herb mixture. Sprinkle with half of the cheese. Repeat with remaining potatoes, salt-pepper mixture, herb mixture, and cheese. Pour cream mixture over gratin, pressing lightly to submerge potato mixture as much as possible.
Cover gratin tightly with foil. Bake 30 minutes.
Uncover and bake until top of gratin is golden and most of liquid is absorbed, about 25 minutes longer.
Let stand 10 minutes before serving.
NOTE: This can be made 6 hours ahead. Cover with plastic wrap and chill. Remove plastic wrap before baking.
Prep Time: 30 minutes
Cook Time: 1 hour
Servings: 8


Ingredients
-
1 1/2 pounds Yukon Gold potatoes
-
1 1/2 pounds sweet potatoes
-
2 cups heavy whipping cream
-
1/4 cup butter
-
2 cloves garlic, minced
-
1 tablespoon fresh rosemary, minced
-
1 tablespoon fresh sage, minced
-
1 tablespoon fresh thyme, minced
-
1 tablespoon fresh Italian parsley, minced
-
1 1/2 teaspoons sea salt
-
3/4 teaspoon freshly ground black pepper
-
1 1/4 cups Gruyere cheese, grated