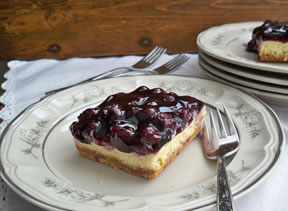 Directions
Mix graham crackers with 1/2 cup sugar. Mix in melted butter.
Mix thoroughly and press into a 9"x13" pan.
Beat eggs with vanilla, cream cheese and 1 cup sugar. Beat until smooth.
Spread on crumbs, sprinkle with cinnamon.
Bake 15-20 minutes at 350 degrees F.
Remove from the oven and allow to cool completely. Cover the top with the blueberry pie mix. Refrigerate.
Prep Time: 30 minutes
Cook Time: 20 minutes


Ingredients
-
30 graham crackers (3 cups crumbs)
-
1/2 cup sugar
-
1/2 cup melted butter
-
4 eggs
-
1 1/2 teaspoons vanilla
-
2 packages cream cheese (8 oz pkgs)
-
1 cup sugar
-
cinnamon
-
2 cans blueberry pie filling