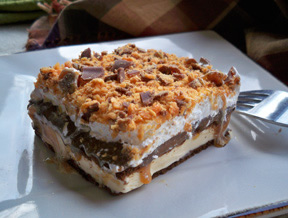 Directions
Line bottom of 9 x 13 pan or dish with ice cream sandwiches. Press the sandwiches into the pan so that the cracks fill in and there is no space around the edges.
Spread caramel sauce over top. Spread cool whip over this.
Chop Butterfinger candy bars (6 small candy bars that are about 2" long) and sprinkle over top.
Put in freezer for at least 2 hours before serving.
Container: 9 x 13 pan


Ingredients
-
1 box ice cream sandwiches
-
caramel ice cream sauce
-
8 ounces whipped topping
-
6 Butterfinger candy bars (small - approx. 2 inches long)