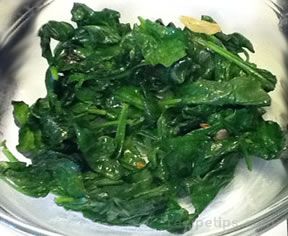 Directions
First, wash the spinach leaves and dry them thoroughly. You can blot with paper towels and then spread the damp leaves out to dry on more towels, or you can use a salad spinner to dry the spinach. After washing, cut off any long stems and throw them away.
When the spinach is washed, dried and ready to cook, start by heating olive oil in a sauté pan on medium high heat. Add garlic and stir until it starts to sizzle and is just slightly browned (about one minute).
Tear larger leaves of spinach into small pieces and add to oil, stirring. Fill the pan with spinach and use a spatula to pack it down to fit more leaves in.
Then use your spatula to stir and turn the spinach to coat it with oil. Sauté until spinach softens and just begins to wilt, approximately three minutes. Spinach should still be bright green in color.
Add salt and pepper to taste. Serve warm.
Prep Time: 10 minutes
Cook Time: 5 minutes


Ingredients
-
1 pound spinach - two large bunches
-
2 tablespoons extra virgin olive oil
-
2 cloves garlic - diced or thinly sliced
-
Kosher salt and freshly ground black pepper to taste