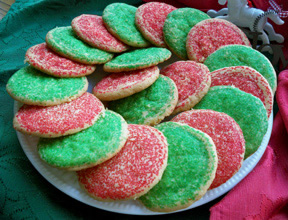 Directions
Cream together sugars, butter and oil until light and fluffy.
Add eggs and beat well; mix in the vanilla.
Add the dry ingredients and beat until evenly mixed.
Refrigerate the dough for 6 to 8 hours.
Roll into small balls, press down with glass dipped in sugar.
Bake at 375° for about 10 minutes or until edges are lightly browned.
Note: You can use a decorative glass or colored sugars as well to decorate according to the season.
Prep Time: 1 hour
Cook Time: 1 hour


Ingredients
-
1 cup powdered sugar
-
1 cup sugar
-
1 cup butter or margarine
-
1 cup vegetable oil
-
1 teaspoon vanilla
-
2 eggs
-
1 teaspoon baking soda
-
1 teaspoon cream of tartar
-
1/2 teaspoon salt
-
4 1/4 cups flour