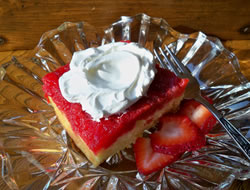 Directions
Preheat oven to 350 degrees F.
Spread sliced strawberries on the bottom of a 9x13 baking pan.
Evenly sprinkle strawberries with dry gelatin powder, and top with mini marshmallows.
Prepare the cake mix as directed on the package, and pour on top of the marshmallows.
Bake in the preheated oven for about 30 minutes or until a toothpick poked in the middle comes out clean.
Cool in pan for 15 minutes. Run a knife around the outside of the pan to loosen the sides and turn cake out into a serving tray.
Serve with whipped cream. Store cake in the refrigerator.
Prep Time: 30 minutes
Cook Time: 30 minutes
Servings: 15


Ingredients
-
2 cups fresh sliced strawberries
-
1 package strawberry gelatin mix (6 ounce pkg)
-
3 cups miniature marshmallows
-
1 package yellow cake mix, batter prepared as directed on package (18 ounce pkg)