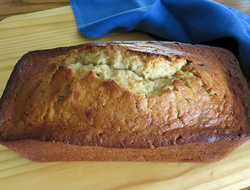 Directions
Beat butter until light and fluffy.
Add sugars to butter and beat well.
Add egg, egg whites and vanilla to butter mixture and beat until well blended.
Add mashed bananas and beat on high for 30 seconds.
In a separate bowl combine flour, soda, salt, and baking powder. Alternately add flour mixture and heavy cream to butter mixture, mixing well.
If using, add walnuts to batter and mix well.
Pour mixture into a sprayed 9x5x3 loaf pan and bake at 350 for 1 hour 15 minutes.
VARIATION: You could also bake in mini loaf pans at 350 for 30 minutes.
Prep Time: 20 minutes
Cook Time: 75 minutes
Container: 9 x 5 loaf pan
Servings: 12
Serving Size: 1 slice


Ingredients
-
5 tablespoons butter
-
1/2 cup sugar
-
1/2 cup brown sugar, packed
-
1 egg
-
2 egg whites
-
1 teaspoon vanilla
-
1 1/2 cups ripe bananas, mashed
-
1 3/4 cups all purpose flour
-
1 teaspoon salt
-
1 1/4 teaspoons baking powder
-
1/2 cup heavy cream
-
1/3 cup chopped walnuts (optional)