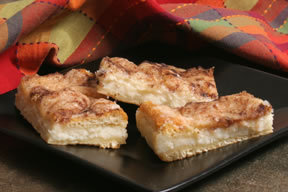 Directions
Cream together cream cheese, 1 cup sugar and vanilla.
1st layer - In 9x13 pan spread 1 can of the crescent rolls on the bottom.
2nd layer - Spread cream cheese/sugar/vanilla on top of rolls.
3rd layer - Spread 1 can crescent rolls on top of cream cheese/sugar.
Melt butter with remaining 1/2 cup sugar and pour on top of rolls. Sprinkle cinnamon over all.
Bake approx. 25 - 30 minutes in 350° oven.
Ingredients
-
2 cans crescent rolls
-
2 packages cream cheese (8 oz pkg)
-
1 1/2 cups sugar, divided
-
1 teaspoon vanilla
-
4 tablespoons butter
-
1 teaspoon cinnamon