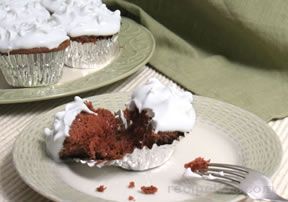 Directions
CAKE:
Preheat the oven to 350 degrees F. Line muffin tins with cupcake liners.
In a mixing bowl, combine the butter and sugar; cream together on high speed until light and fluffy. This may take 4 or 5 minutes. Scrape sides occasionally.
With speed reduced to low, add one egg at a time to the creamed mixture; beat until mixed in after each.
Add the vanilla and mix well.
In a separate smaller bowl, sift the flour, cocoa powder, and salt together.
Add half of the dry ingredient to the creamed butter and sugar mixture and beat on low until well mixed.
Add the sour cream and beat into the mixture; then add the remaining dry ingredients and beat on low until everything is well incorporated.
In a small bowl combine the vinegar and baking soda; stir until fizzing stops and then add to the batter and beat just until mixed in.
Fill the paper lined tins three-quarters full with batter. Bake in preheated oven for 20 to 25 minutes or when a toothpick poked in the middle comes out clean.
Allow to cool for ten minutes in the tin; then remove and place the cupcakes on a cooling rack to cool completely.
FROSTING:
In a saucepan or deep-sided skillet large enough to hold a mixing bowl, bring a couple of inches of water to a slow simmer.
In a mixing bowl, whisk the sugar, egg whites, cream of tartar, and salt together until combined.
Place the bowl over the simmering water and continue to whisk until the sugar is melted and the mixture is smooth, 2 to 3 minutes. Mixture should be hot to the touch.
Remove the egg whites mixture from the simmering water and begin beating at medium-high speed. Beat until whites are cooled and are forming a soft peak.
With the mixer on low speed, add the vanilla and almond extract. Increase the speed to medium and continue to beat until the frosting forms stiff peaks and has a glossy sheen.
Frost the cooled cupcakes and decorate as desired.
If stored in an air-tight container in the refrigerator, the cupcakes and meringue frosting will keep fairly well for a couple of days.
Prep Time: 1 hour
Cook Time: 30 minutes
Servings: 18


Ingredients
-
CAKE:
-
1/2 cup butter - softened
-
1 cup sugar
-
2 eggs
-
1 teaspoon vanilla
-
1 1/4 cups flour
-
3 tablespoons cocoa powder
-
1/4 teaspoon salt
-
1/2 cup sour cream
-
1 teaspoon white vinegar
-
1 teaspoon baking soda
-
Sprinkles or candies for decorating (optional)
-
FROSTING:
-
1 cup sugar
-
5 egg whites
-
1/4 teaspoon cream of tartar
-
Pinch of salt
-
1 teaspoon vanilla
-
3 drops of almond extract