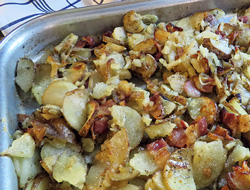 Directions
Preheat oven to 400° F. Grease a 9x13 inch casserole dish.
Place potatoes in an even layer in prepared dish. Sprinkle onion and bacon over potatoes; dot with butter and season with salt and pepper. Cover dish with foil.
Bake in preheated oven for 45 minutes. Remove foil and stir potatoes. Turn oven to broiler setting and allow potatoes to brown for approximately 5 to 10 minutes, stirring occasionally, until crispy.
Prep Time: 15 minutes
Cook Time: 55 minutes
Servings: 6


Ingredients
-
2 1/2 pounds potatoes, unpeeled and thinly sliced
-
1/2 cup onion - finely chopped
-
6 slices bacon - chopped
-
1/4 cup butter - diced
-
salt and pepper to taste