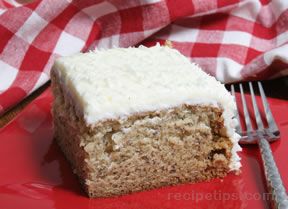 Directions
CAKE:
Grease and flour a 9 x 13 cake pan. Preheat oven to 275 degrees F.
Mix the mashed bananas and lemon juice together in a small bowl and set aside.
In another bowl, combine the flour, baking soda, and salt.
In a large mixing bowl, cream the butter and sugar together.
Beat eggs into the butter and sugar mixture one at a time. Beat in vanilla.
Mix in the flour a little at a time, alternating with the buttermilk.
Stir in the mashed bananas and then pour batter into the prepared cake pan.
Bake for approximately 1 hour and 20 minutes. Start checking for doneness after about 1 hour by poking the center of the cake with a toothpick. When it comes out clean, the cake is done. Baking times may vary so check with a toothpick to be sure the cake is baked properly.
FROSTING:
Combine the cream cheese and butter in a mixing bowl and beat until well blended.
Add in the powdered sugar and vanilla and beat until creamy smooth.
If the consistency of the cream cheese frosting is too thin, add a little more powdered sugar, starting with one or two tablespoons at a time until it is the desired consistency.
Spread frosting on the cake evenly.
Prep Time: 30 minutes
Cook Time: 1.5 hours
Servings: 15


Ingredients
-
CAKE:
-
1 1/2 cups mashed ripe bananas
-
2 teaspoons lemon juice
-
3 cups flour
-
1 1/2 teaspoons baking soda
-
1/4 teaspoon salt
-
3/4 cup butter - softened
-
2 1/8 cups sugar (1/8 cup = 2 tbsp.)
-
2 teaspoons vanilla
-
3 eggs
-
1 1/2 cups buttermilk
-
FROSTING:
-
1/2 cup butter - softened
-
8 ounces cream cheese - room temperature
-
3 1/2 cups powdered sugar
-
1 teaspoon vanilla